Ghostface is the psychotic killer and the main antagonist from the Scream horror franchise. He is a fictional persona and costume adopted by the main antagonists of the Scream series as a disguise to conceal their identity. The character is voiced by Roger L. Jackson, regardless of who is behind the mask. The mask is based on The Scream painting by Edvard Munch and ghosts that appeared in a Betty Bop cartoon. In Scream, the identity is temporarily adopted by the killers' target, Sidney Prescott, using it against them. In the Scream universe, the costume is not unique and is easily obtainable, allowing others to wear a similar outfit. Ghostface often calls its targets to taunt or threaten them while using a voice changer that hides its true identity. In Scream 3, this is taken further by Roman Bridger who uses a device that enables him to sound like several other characters in order to manipulate targets. The changing identity of the person beneath the mask means that Ghostface has no definite motivation, ranging from revenge and seeking fame to "peer pressure". However, each killer shares the common goal of killing Sidney due to a chain of events indirectly caused by her mother Maureen Prescott.
GhostFace appears as a quest character in Cartoon Network Vs. NetherRealm 3.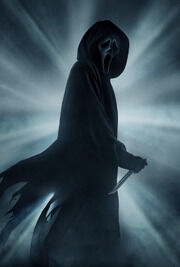 Ad blocker interference detected!
Wikia is a free-to-use site that makes money from advertising. We have a modified experience for viewers using ad blockers

Wikia is not accessible if you've made further modifications. Remove the custom ad blocker rule(s) and the page will load as expected.